Mercedes to nowoczesna
marka. Dlatego ze szczególną
uwagą obserwowaliśmy
pracę Evelo nad aplikacją
dla nas. Efekty przerosły
nasze oczekiwania.
Jan Kowalski
Funkcja w firmie
Mercedes Benz Polska Sp. z o.o.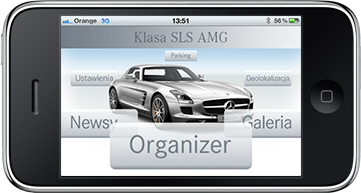 Mercedes
iMB application was created in cooperation with Mercedes-Benz Polska company, a general representative of the Mercedes Benz company in Poland. Application is for users of Apple devices. Right now all iPhone users can and in a near future iPad users will be able to enjoy the free application allowing closer integration with their favourite car brand.